Ladera Teens Volunteer to Give Back and Make a Difference
Need an introduction paragraph
by Suhina Sharma

Shaili Patel


Shaili volunteers at the Mission Hospital for the Mission Hospital Auxiliary, a nonprofit charity that supports the hospital with volunteers to service and support patients with indirect care, visitors and staff. Services include Baby's First Ride Program, Emergency Room and Surgical Services support. Shaili notes, "I chose to volunteer at Mission Hospital because I wanted to gain hospital work experience and see what is was like to work in a hospital environment. And since I love helping people, a hospital is one of the best places I could think of to help others." Shaili guides patients to their destinations, assists in discharging patients, and helps manage the front desk. Patel hopes that her service at the hospital will leave a positive mark.
Jillian Tobias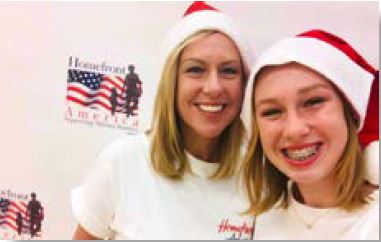 Jillian has volunteered for National Charity League Organization (NCL), a non-profit charity for mothers and daughters who are devoted to community service, developing leadership qualities, and inspiring others to volunteer in their community. NCL appealed to Jillian who wanted to make an impact beyond Ladera Ranch, in other Orange County communities, and hopefully someday the world. Jillian states, "As part of NCL, we have the opportunity to play different roles in our league. One year I was President of my class in 7th grade. I have served as Historian, taking pictures of our work, and Sunshine, in which we show appreciation to our volunteers for their hard work."
Jillian hopes that through volunteering with NCL, she will encourage others in the community to aid other charities by doing volunteer work, donating and more. She also hopes to inspire other mothers and daughters to join and make a difference in their communities around the world.
Audrey Banzali-Marks


Audrey volunteers for the Friends of the Ladera Ranch Library (FOLRL). FOLRL is a non-profit organization that funds programs that benefit the community of Ladera Ranch and surrounding areas. FOLRL is 100% funded and run by volunteers. Each year, county funding for libraries continues to decline, and the role of the Friends of the Library becomes increasingly important. When asked why she volunteers for FOLRL Audrey said, "Since I was three years old, I found my home at the library, with its availability of new stories and fun programs. I started volunteering at the library when I turned twelve and continue to do so today. I want to give back to the place that has provided me with so much."
◘
SJHHS Students Team Up for Good Cause
San Juan Hills High School's baseball
team recently collected gently used shoes to send to Africa and South America. Over 700 pounds of shoes were collected to benefit micro-entrepreneurs who repair and resell the shoes in their villages and communities, helping them to support their families.
"The effort raised a small amount of funds for the team, but more importantly it was a way for our team members to give back to others in need while building team camaraderie," said Coach Bret LeVier. ◘