LARMAC Starts Next Phase of Playground Replacements
LARMAC is ready to start the next phase of its playground structure replacement project which includes eight parks throughout Ladera.
As part of the continuing project to update Ladera Ranch playground structures, Ladera Ranch Maintenance Corporation (LARMAC) is ready to start the next phase which includes eight parks. Starting with the plays structure at Founders Park on January 17, the next phase will include Flintridge Clubhouse, Arroyo and Oso Grande parks, and Boreal, Canterra, Celestial and Cherry plunges.
The LARMAC Board of Directors worked closely with the operations staff to gather, review and approve proposals and 105 playground designs from seven vendors. The Board approved the final designs and selected Great Western Recreation and GameTime (equipment manufacturer) who presented the best value and designs.
LARMAC President, Chase Fitzpatrick said "By grouping the eight locations into the next phase of the project, LARMAC can take advantage of economies of scale and reduce costs related to the mobilization of the materials and equipment. The installation and maintenance of the playgrounds will be easier to manage by having one vendor for the installation and when ordering replacement parts in the future." By approving all locations at once, LARMAC expects to save approximately 40% on the project.
Age Group Design
The play equipment at all eight locations is designed for ages 5 to 12 years; additionally, Oso Grande park will have equipment for 2 to 5 years.
Themes and Design
Each playground will feature play equipment that has a unique design and theme appropriate for the location within the community.
Arroyo Park
Located next to the Horno Basin, the play structure will have a pirate ship theme. This playground will have additional play features that are laid out in a way that encourages 'floor is lava' style of play.
Boreal Plunge
This inclusive playground features a net rope and a transfer platform with a slip-resistant path of travel. An ideal playground to introduce younger children to play equipment. The playground has additional play features that are laid out in a way that encourages 'floor is lava' style of play. The playground will be shaded from the sun by the existing shade structure; additional shade will be added to cover the swings.
Canterra Plunge
This play equipment will be approximately 14' tall and have a colorful modern design to it. It will offer familiar components such as swings, balance beams, slides while offering a net rope, climbing walls and an open design that challenges kids to play and use their imagination in more ways than a standard 'post and platform' designs offer.
Celestial Plunge
This playground will feature a modern rocket ship design that has a 'floor is lava" design element. Children can use their imagination to move around using multiple pathways throughout the entire playground without touching the floor. Additionally there are STEM-based play features at ground level, a 16' Helix tower and rubber features with star-shaped accents to compliment the "Celestial" theme.
Cherry Plunge
This smaller location has a tower design to increase the play area. It will include a unique slide which will be different from existing slides throughout Ladera Ranch.
Flintridge Village Clubhouse
Located just outside of the pool area at Flintridge Village Clubhouse, this playground will include a nature and butterfly design with signage about butterflies and interactive activities for children. Although the current design shows a tire swing, this will be swapped out with "Mommy and Me" single swing set.
A stained glass feature with different colored plastic panels that cast colors throughout the playground which move throughout the day.
Founders Park
This bee and nature themed inclusive playground is designed for all levels of play and mobility. It will have ramps with vibrant colors, textures, and interactive features. Signage will include fun facts about bees and activities encourage pretending to be a bee and pollinate different features throughout the playground.
Oso Grande Park
Adventure seekers will love the structure that has an integrated tower with a tall slide and a child-friendly rope Ninja Warrior-like obstacle course that promotes physical fitness in a fun way.
The design currently shows Tri Runner feature (pole swing with three seats under shade structure); the final design will have a four-swing bay with two standard swings and two 'Mommy and Me' style swings which will all have built-in shade.

Work on the Oso Grande Park playground will commence on Monday, January 24, 2022.
Kids Around the World Partnership
To recycle, reuse and support a good cause, LARMAC has partnered with Kids Around the World (KATW) to refurbish seven of the eight existing plays structures. The donated equipment will be removed by KATW at their expense which will save the community $70,000 on the demolition and disposal of the existing play structures. Founders Park is the only playground they cannot re-use because of the design of the posts.
Kids Around The World refurbishes and installs playgrounds in underserved communities. Additionally, KATW incorporates a job training program that that focuses on welding to refurbish the playground equipment which helps people to learn a skilled trade and bring income into their communities. KATW uses the playground as a focal point to support programs that serve children and the community. After a few months of the playgrounds being installed, KATW will share photos and the impact the playground is having on the community that they installed. For more information about KATW, visit KidsAroundTheWorld.com
Other parks that have already been completed are Dawnwood Park, Chaparral Park and Pleasanton Park.
Below: Rendering of the new playground at Founders Park.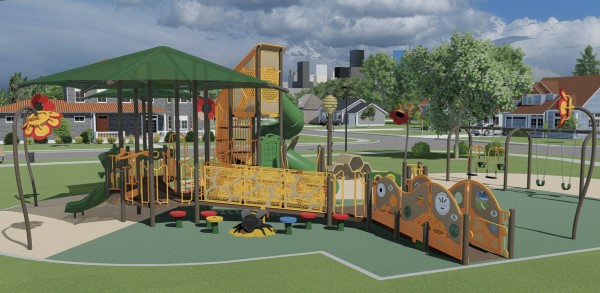 Photos of new play structure at Founders Park (2/22/2022):